How to transfer files between Lustre using Globus Online
Fermilab provides data transfer between its Lattice QCD Lustre filesystem through Globus Online. To use this facility you will need to perform a one-time registration step as detailed in Step 1 below. After the registration steps have been completed successfully follow steps detailed in Step 2 to initiate transfers between Lustre using Globus Online.
Step1. One time registration.
Step 1.1. Fermilab Kerberos account
If you are reading this document, you should already have a Fermilab Kerberos account and be authorized to use the Fermilab LQCD Lustre filesystem for read (and write). If you do not have a valid Fermilab Kerberos account please follow instructions listed on the New Users account page. If you need further assistance please email us at lqcd-admin@fnal.gov
Step 1.2. Register with Globus Online
If you have not registered with Globus Online already then registering with Globus Online for a new account is easy. Please go to www.globusonline.org and Sign Up for a new account. It takes a few minutes to setup a new account. Please watch over your emails for an email confirmation.
Step 1.3. Notify us that you have registered with Globus Online (if needed)
Send an e-mail to hpc-admin@fnal.gov indicating that you have registered (if needed) with Globus Online.
Step 1.4. Notify us of your CILogon certificate DN content
Go to cilogon.org, authenticate with your home institution (Identity Provider) and send email to hpc-admin@fnal.gov with the "Certificate Subject" line (underlined in red below).
The next section addresses the actual transfer procedures.
Step2. Transferring files.
We have setup two dedicated Globus endpoint servers named lqcd#fnal (case sensitive) and lqcd#lq1 so users can access the two Lattice QCD Lustre filesystems (lqcdproj, lustre1) through Globus Online. If you have any questions or issues following the steps listed below please email us at lqcd-admin@fnal.gov. For Globus account related questions please contact the Globus support team.
Step1. Login to your Globus Online Account using CILogon at https://www.globus.org/



Step2. Make sure to use CILogon to authenticate yourself. Search your home institution and use that, the one shown in the screenshot (Fermi..) is an example. If Fermilab is your home institution then use that.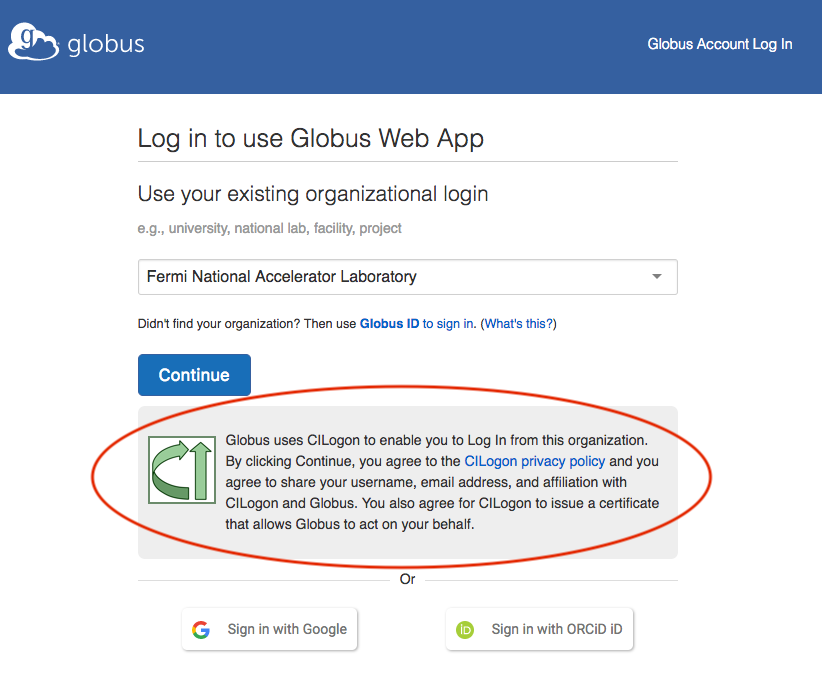 Step3. Click on the Endpoints link to search or list the Fermilab LQCD Globus endpoint servers.



Step4. Enter "lqcd fnal" (case sensitive) in the search bar to locate the endpoints. Click one of the listed endpoints to choose the one you wish to use. Recommended steps to follow are noted in the screenshot below.



Step5. Click the Activate Now button to activate the endpoint.



Step6. Click the Continue button to be redirected to the CILogon site for authentication.



Step7. Search for your Identity Provider/Home Institution and select that to authenticate yourself.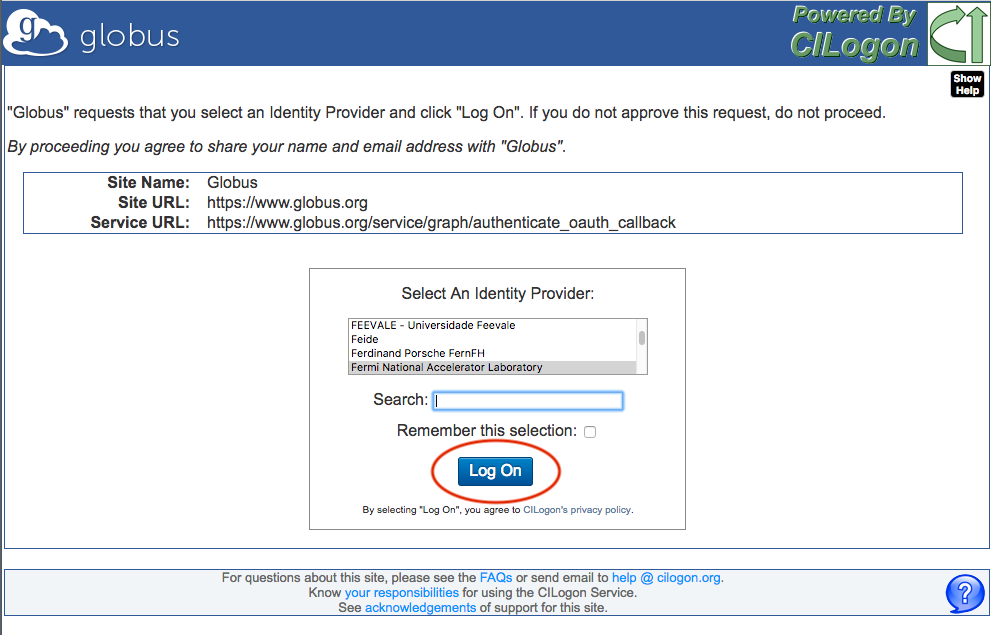 Step7. If all went well thus far then you are ready to transfer files. Click on the icon circled in red in the screenshot below.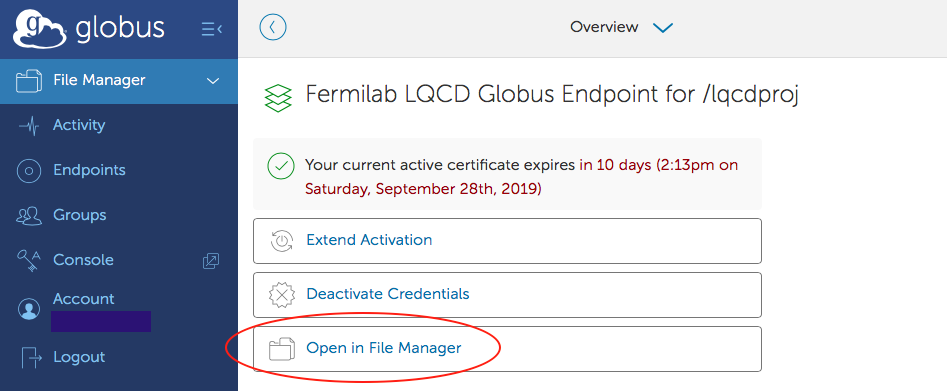 Step8. CONGRATULATONS !! You should be able to see the Lustre filesystem contents as shown below.